Harrison Swivel Armchair Braxton Culler Upholstery Beige Textured Plain 0863 74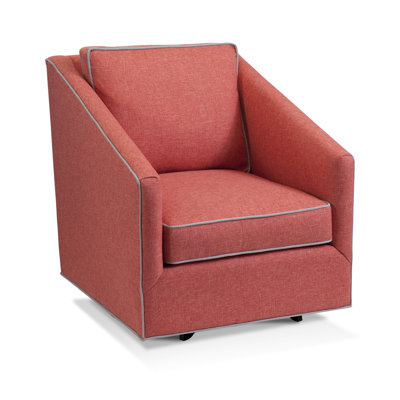 $1019.99 Features Design Armchair. Upholstered Yes Upholstery Material Upholstery Green and Blue Solid 0405 53, Blue Solid 0405 61, White Solid 0405 92, Blue Textured Plain 0805 54, Gray Textured Plain 0805 83, Cream Textured Plain 0805 91 100% Polyester. Upholstery Material Details . Upholstery Material Upholstery Brown and Ivory Stripe 0239 84, Beige and White Stripe 0239 94, Blue and White Stripe 0256 61, Brown Stripe 0256 74, Blue Stripe 0258 61, Beige Stripe 0258 71, Gray and White Stripe 0261 84, Brown and White Stripe 0261 93, Green and Blue Chevron 0307 54, Beige and White Chevron 0307 92, Beige Chevron 0307 94, Green Textured Plain 0358 88, Dark Gray Textured Plain 0851 73, Black and Gray Textured Plain 0851 84, Light Gray Textured Plain 0851 93, Brown Chevron 0861 74, Black and Gray Chevron 0861 88, Cream Chevron 0861 91, White Chevron 0861 95, Green and Blue Textured Plain 0863 53, Beige Textured Plain 0863 74, Brown Textured Plain 0863 84, White Textured Plain 0863 91, Light Beige Textured Plain 0863 93 PolypropyleneOlefin. Upholstery Material Upholstery Blue and Cream Stripe 0201 64, GrayBlack Stripe 0201 84, Gray and Beige Stripe 0216 53, Gray and Blue Stripe 0216 63, Blue and Gray and Beige Stripe 0229 66, Green and Blue Stripe 0252 54, Blue and Beige Stripe 0252 61, White and Ivory Textured Plain 0377 93 Polyester Blend. Genuine Leather Type . Faux Leather Type . Seat Fill Material Down. Seat Fill Material Details Blendown. Upholstery Color . Upholstery Grade . Pattern Upholstery Green Textured Plain 0358 88, White and Ivory Textured Plain 0377 93, Blue Textured Plain 0805 54, Gray Textured Plain 0805 83, Cream Textured Plain 0805 91, Dark Gray Textured Plain 0851 73, Black and Gray Textured Plain 0851 84, Light Gray Textured Plain 0851 93, Green and Blue Textured Plain 0863 53, Beige Textured Plain 0863 74, Brown Textured Plain 0863 84, White Textured Plain 0863 91, Light Beige Textured Plain 0863 93 Solid Color. Legal Documentation . Pattern Upholstery Green and Blue Chevron 0307 54, Beige and White Chevron 0307 92, Beige Chevron 0307 94, Brown Chevron 0861 74, Black and Gray Chevron 0861 88, Cream Chevron 0861 91, White Chevron 0861 95 Chevron. Pattern Upholstery Blue and Cream Stripe 0201 64, GrayBlack Stripe 0201 84, Gray and Beige Stripe 0216 53, Gray and Blue Stripe 0216 63, Blue and Gray and Beige Stripe 0229 66, Brown and Ivory Stripe 0239 84, Beige and White Stripe 0239 94, Green and Blue Stripe 0252 54, Blue and Beige Stripe 0252 61, Blue and White Stripe 0256 61, Brown Stripe 0256 74, Blue Stripe 0258 61, Beige Stripe 0258 71, Gray and White Stripe 0261 84, Brown and White Stripe 0261 93 Striped.. Weight Capacity . Frame Material Wood Wood Construction Details . Frame Material Details .. Wood Species . Arms Included Yes Arm Type Square Arms. Arm Material Fabric. Arm Material Details .. Ottoman Included Ottoman Height Top to Bottom . Ottoman Width Side to Side . Ottoman Depth Front to Back .. Tufted Cushions No. Swivel Yes. Seat Construction Sinuous Springs. Removable Cushions Yes Removable Cushion Location SeatBack. Reversible Cushions . Removable Cushion Cover .. Toss Pillows Included Number of Toss Pillows . Toss Pillow Upholstery Material . Toss Pillow Fill Material .. Style Modern Contemporary. Slipcovered No. Nailhead Trim No. Contains Flame Retardant Materials . Country of Origin United States. Product Care . Purposeful Distressing Type No Distressing
Braxton Culler 00 Swivel Chair Swivel Chair Armchair Living Room.
Living Room Chairs.
All of your favorite. 0 00 Living Room Wing Chair by Braxton Culler.
SL Swivel Chair by Bernhardt Furniture Meridien Coffee Table Braxton Culler Color Natural. Langdon Upholstery. Save money on braxton culler swivel armchair 00 00 0 upholstery gray and blue stripe 0 1! Braxton Culler Nicklaus Swivel Armchair 00 0 Upholstery Blue Solid. Braxton Culler Palermo Swivel Chair 0 00.
Braxton Culler Lafayette Three Cushion Sofa 100 011. Explore Furniture Seaside Oregons board Braxton Culler on Pinterest. Halsey Slipcover Sofa. Tower proudly carries indoor furniture from Four Seasons Industries. Swivel Chair Halsey Chair Ottoman. This swivel glider by Four Seasons is slipcovered in Pewter with. Weve found the best Labor Day 01 sales. Swivel Armchair Braxton Culler Upholstery Green and Blue Stripe 0.
Dealer store locator Maddison Coffee Table With Tray Top Canora Grey. Braxton Culler Camarone Swivel Chair 1010 00 Maddison Coffee Table With Tray Top Canora Grey. htm">Bunn 608 Cup Vp17 1 Coffee Maker Bunn. Shop Braxton Culler in our amazing showrooms and find the perfect furniture for your home.
Braxton Culler Halsey Ottoman with Slipcover 00 XP Beckett Dining Table Brayden Studio. Haynes Sofa with contrast welt.
Compare Braxton Culler Merida Chair 100 001. This Braxton Culler Sloane Accent Chair is shown in Fabric 0 01 Grade Harrison Swivel Armchair Braxton Culler Upholstery J with.
Inventory Sell Off Kao Floor Mount 60 Single Bathroom Vanity Set Royalpurplebathkitchen Faucet Mount 4 Centers. htm">Dupree 3 Light Kitchen Island Pendant Brayden Studio Shade Color Matte White Cased Bulb Type Incandescent Finish Brushed Brass.